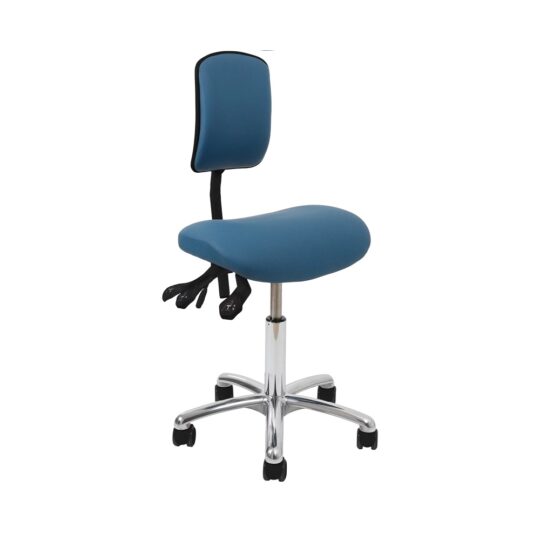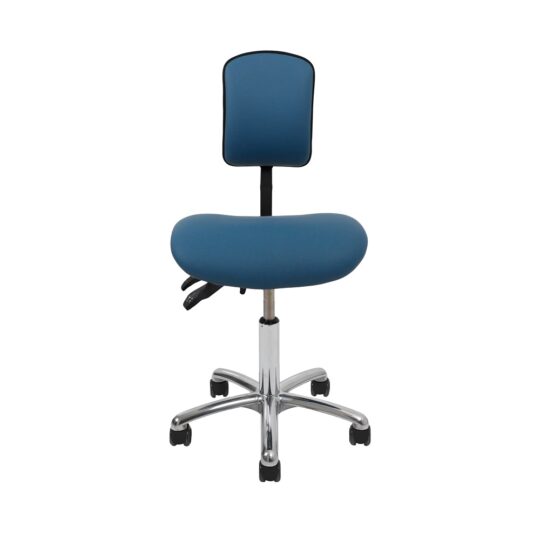 Beschrijving
De VELA SAMBA 150 is de waterval-zitting met smalle rugleuning en bevat o.a. de volgende eigenschappen :
Bekleding : Compound (standaard)
Kleur : Black / Grey / Blue (standaard) – alternatieve bekleding/kleur is mogelijk tegen meerprijs – zie opties
Handmatige hoogte & helling instelling
Zithoogte : 50 -70 cm (optioneel 44-64 cm of 60-86 cm)
Frame afmeting : 50 x 50 cm
Zitting (B x D) : 46 x 32 cm
Rugleuning (B x H) : 22 x 29 cm
Alu Foot Style 01 (50 cm doorsnede – small)
Max. gebruikersgewicht : 125 kg
5 x 50mm onbelast geremde wielen (dubbel) – zwart
Ref: VL-S150
Standaard wordt de stoel voorzien van hoogwaardig "Illusion" – bekleding met een standaard kleur. "Illusion" voldoet aan alle hoge cleaning-criteria in de (mond)zorg en kenmerkt zich door een mooi oppervlak dat niet glad is om op te zitten.
Naast de "Illusion" kunt u ook kiezen voor een ultiem verfijnde "Compound"-bekleding – een lust voor het oog door de originele stoffering dat niet alleen heerlijk zit maar ook in praktisch gebruik uniek is. Voor zowel "Illusion" & "Compound" geldt dat u naast de standaardkleuren (zwart / grijs of blauw) ook de mogelijkheid heeft om – tegen een kleine meerprijs – een persoonlijke kleur te kiezen. Bekijk het volledig kleuren-assortiment en maak een passende keuze.
Bekleding Illusion :
'Illusion' voldoet aan alle schoonmaakeisen in de zorg en is tevens Oecotex gecertificeerd. 'Illusion' kan worden gereinigd met concentraties tot 75% ethanol en is bestand tegen chloordesinfectie (desinfectie met actief chloor tot 5000 ppm). 'Illusion' is een textiel gemaakt door Nevotex en heeft een mooi oppervlak dat niet glad is om op te zitten.
Bekleding Compound :
De absolute topper binnen het VELA assortiment en ongekend populair. 'Compound' voldoet aan alle reinigingseisen in de zorg. De verbinding kan worden gewassen met alcohol in concentraties van 70%–85% alcohol en is bestand tegen desinfectie met chloor (ontsmettingsmiddel dat actief chloor bevat van 1000–1200 ppm). Tegelijkertijd zorgt 'Compound' voor een comfortabel oppervlak dat niet glad of zweterig wordt bij langdurig zitten. 'Compound' is een textiel gemaakt door Maharam Design Studio.